Most moving company owners will know what customers are looking for in a removals company. They want a company that is professional, reliable and, most importantly, trustworthy. They need to trust you with all of their possessions, their history. They need to know that their favourite family heirloom, inherited from their beloved grandparent, is in safe hands.
A more difficult job is knowing how to convince your customers that your company is the safest hands. This is the job of removals marketing.
Many removal companies don't really know how to get this message out. The old school methods like word-of-mouth and directories don't work how they used to. Conversations between neighbours have been replaced with online reviews, while a doorstop directory no longer sits on your own shelf - it's squirrelled away on the web.
In this article, we'll give you a few tips on how to promote your removals company in the current business climate. We'll cover suggestions for digital marketing as well as highlight which of the traditional methods still offer impressive results.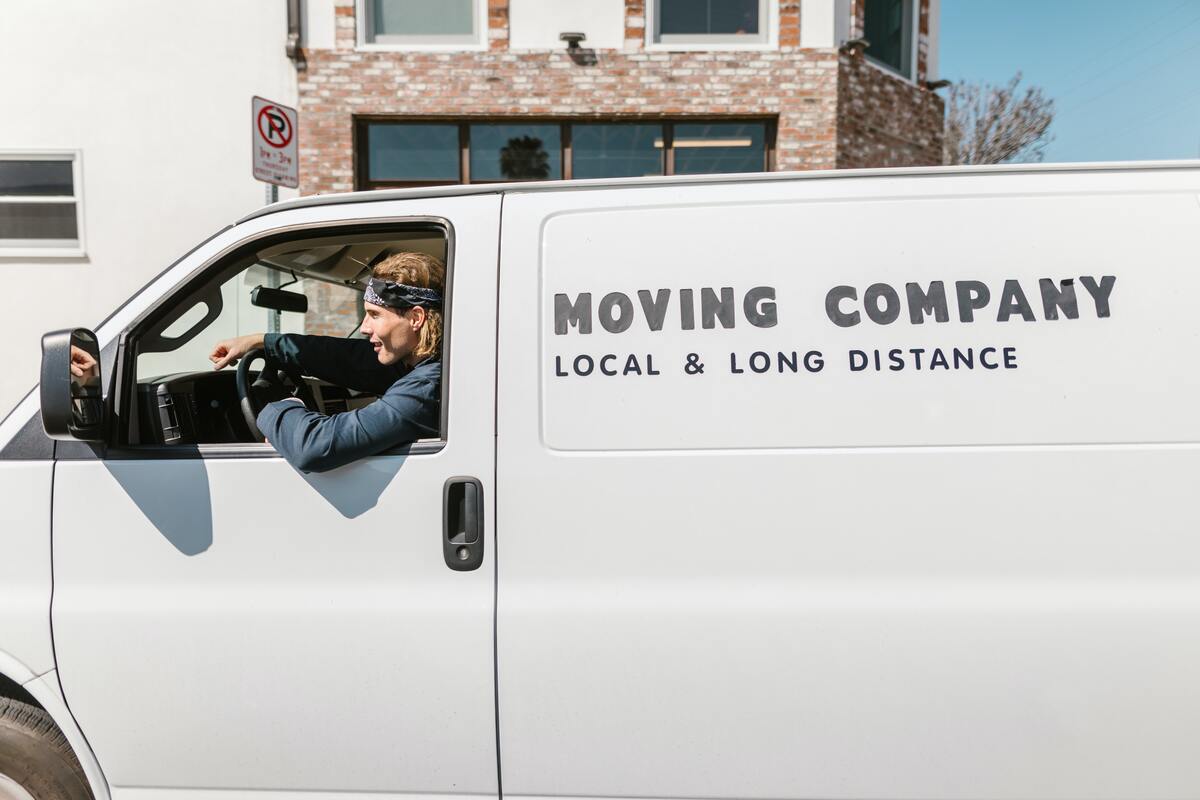 7 Effective Ways to Promote a Removals Company
1. Create a Professional Online Presence
Building a website is an important starting point for any digital marketing strategy. You can keep it smart but basic - your potential customers won't be looking for bells and whistles, they'll be looking for a professional, trustworthy moving company.
There are plenty of designers out there willing to help build an incredible website, but if you decide to tackle the task yourself, here are a few tips to remember:
Make sure to include important pages like 'About Us' and 'Contact Us'.
Humanise your 'About' page with a little bit of background on the company as this can inspire trust. Don't go into excessive detail though, you're looking to build personality, not share an elaborate history.
Keep a concise overview of your services on your homepage, so people get the most important information upfront. Then create more in-depth service pages with all the added details.
Ensure there is more than one way to request a quote. Not everyone can afford (or even wants) to invest in an automated chat system, but customers may not have the time or energy to ring a helpline. Moving is a stressful enough process already.
Something as simple as a specific quote form, which asks for the details you need to build the quote, will help harried customers and encourage them to commit.
Create a blog that covers issues that your potential customers could be facing. These might include 'how to' guides and checklists around packing and moving, answering frequently asked questions you receive or relevant industry news.
Add a smattering of stories based on the business to add personality and promote new services, but don't get carried away with posts about new staff members or business decisions.
Make sure your website looks good on mobile devices as well as desktops. This is called 'responsive web design' and it is incredibly important. Many of your customers will first discover your business while using their phone or tablet, so your website needs to look good on smaller screens as well as big ones.
2. Get Relevant Leads With Home Mover Leads
In marketing, it is vital to be discoverable when someone is searching for the service you provide. Social media, paid advertising and a strong online presence will help you here.
However, this isn't the only way you can generate leads. Another way is to get on the radar of potential customers before they even start to search. A moving leads service provider can help with that.
Here at MoverAlerts, we have the most accurate and comprehensive homemover data in the UK. Removal companies can use this to get in touch with homemovers before they've even started to think about searching for themselves.
These moving leads are always relevant. They will be people who are definitely moving, have sales STC or have just listed their house for sale, and you can narrow them down by other demographics and niches too. The companies that use our data report response rates of up to 25%. This means you aren't wasting time chasing down leads that run dry, and it can also help level out seasonal peaks and troughs.
3. Create a Google My Business/Google Business Profile
If you're lamenting the loss of the Yellow Pages, then a Google My Business profile (soon to be renamed 'Google Business Profile') is probably the closest thing you'll get in the online world. (Yes, Yell.com is the Yellow Pages website but it has nowhere near the popularity that the old paper copy has).
Google My Business is a free service provided by Google that allows you to build a complete business profile. It's the profile that appears on the right hand side of search results when people search your business online, and it shares the essential information they need to know. It's particularly important to removals marketing because it will also give you a location presence in Google Maps searches. This helps improve your visibility on local searches, returning you higher in the results for people who are searching in your area.
You can also use this listing to collect ratings and reviews, that will all be viewable the moment somebody searches for your company.
There are other ways to utilise Google for marketing your business as well. If you want to truly harness its power, spend some time learning about the mystical arts of search engine optimization (SEO) and you can help your business sit at the top of the Google search results page too.
4. Paid Advertising
If you don't have the time or manpower for organic marketing or learning about SEO, you can always cut to the chase with pay-per-click (PPC) advertising on Google. This will guarantee your business sits at the top of the search page (although only for certain search terms in line with what you pay for).
As well as Google Ads, you can pay for adverts on social media that will appear for people in your target demographics. This obviously costs money, and it does still take skill and knowledge to maximise your ROI. Get it right though, and it will be a worthwhile investment. Most social media platforms support paid advertising, including Facebook, Twitter and Instagram.
5. Embrace Social Media
Even if the idea of paying for social media advertising doesn't appeal, it is still important to establish an active social media presence. Facebook, YouTube, even Instagram can all be fruitful aspects of a social media marketing strategy.
They are a great way to connect with your customers. You can use these channels to talk directly with them, helping to establish that all-important trust. You should post regularly but not constantly. Use similar subjects that you would in your blog.
Social media is also a great place to collect and highlight particularly glowing reviews. Share, repost or even add them to a graphic. Just take care not to do it too often.
6. Acquire Accreditations, Affiliations or Certifications
Another way to establish trust for potential customers is to invest in some accreditations, affiliations and certifications.
Applying to organisations like the British Association of Removers or the Association of Independent Movers will show that independent companies have judged your service to be of a high standard. It proves your company is legitimate and has associated credentials.
Once you have achieved these affiliations, make sure they are on the front page of your site, as well as featured on your social media accounts. These are the kind of things customers want to know about before they fully engage with your company. Make sure you foreground them.
7. Direct Mail Marketing
Up to now, everything we've touched upon has revolved more around online and digital marketing. But our final tip is not to neglect traditional marketing opportunities either.
Targeted direct mail campaigns are a particularly reliable marketing method for a moving company. In the rush of planning, preparation and panic that accompanies most house moves, providing potential customers with something physical to refer to is a powerful move.
A leaflet or letter is likely to stay in view, be remembered, and be referred back to in a way that an email won't. Instead of being quickly buried in the bottom of an inbox, chances are it will be placed somewhere prominent or even acted on immediately. One of the best things about this type of marketing is that it is easily handled by an external company.
Here at MoverAlerts, we offer a subscription service that uses dependable homemover data to find potential customers for your business. We can then conduct postal marketing campaigns on your behalf, only targeting leads identified as relevant to your business. This way, we make sure the campaign is run efficiently and maximises your ROI. Get in touch with our friendly team to learn more.