Here at MoverAlerts, we are only interested in one thing:
How can we help you generate more business?
By reading this blog, you are either:
Already subscribed to our ground-breaking targeted marketing solution
or...
Curious to know how we bring the home mover leads to you
Well, if you fall under Option 2, why not click the button below to fill in our short form so one of our dedicated MoverAlerts Account Managers can show you what you are currently missing out on.
So let's kick off this blog by asking you a question:
What do you currently know about MoverAlerts?
You probably see MoverAlerts as a service that provides addresses. Well you aren't wrong! Do you know we provide fulfilment services also? We can do the postage, collateral and the so-called 'stuffing of envelopes' for you as well, but we are much more than just that!"
We have some services which let's say will help you 'seal those deals'.
1. Our Account Management Team - Friendly, professional plus has a knowledge base on the home mover market which is on another level.
2. Our Lead Map feature for your MoverAlerts dashboard - This map has recently gone under some renovation to make it even better for you, and for your strategic thinking. This tool has been carefully designed to enable you to do the following:
Shows potential leads in any postcode sector with a selected subscription criteria
Displays information about which postcode sectors you may not have subscribed to yet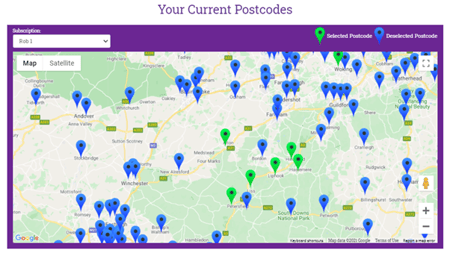 So what does this mean?
Well, we are giving you access to see where the "hotspots" and home mover activity is. Amazing right? Save time and money on where to focus your next campaign or even to alter your current strategy. By using this tool, it can:
Save you and the business money
Help you find a gold mine of new leads, which other companies haven't tapped into yet
Give you back your precious time, well not quite, more saves you wasting time looking for leads that may not even exist


Sounds good! How do I use it?
We have designed it in such a way to make it as easy as possible. We don't want to waste all that time we saved on sourcing our leads, on something overly complex!
MoverAlerts can get you up and running in 5 steps:
We want to select the subscription, which will have the criteria associated with it. During the creation of the subscription, an alias would have been created to help identify it.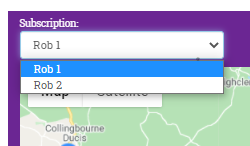 Then, your postcode markers will be split into two colours;

Green

for the postcodes sectors which are included in your subscription or

Blue

for ones that are not.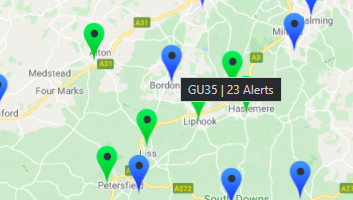 The information will load with all the Listing Status, or otherwise known as "Triggers", which are available.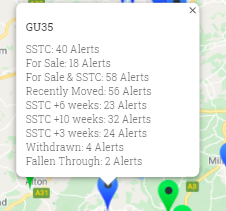 If you would like to add your postcode, please contact our Accounts Team via Live Chat, Email, or Telephone and they can add on for you and confirm the new subscriptions
Done, your leads will come flying in, and your user base should start to go.
We (especially myself), always love feedback on our product, features, ideas, concepts, or basically anything that covers all of the above.
Or if you want to hear more from me, don't hesitate to reach out to me via
LinkedIn
too. 🙂