Nationally, completion times are currently taking on average 50% longer than they were a year ago.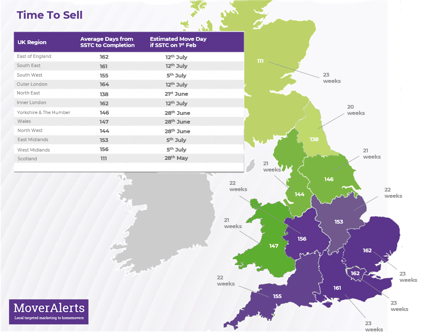 Does the story below sound familiar to you?
We all know that traditionally it would take about 12 weeks from the point of agreeing a sale, to actually reaching your move date. In fact, my last move in 2017 felt like the most agonising process – we agreed a deal on 1st November but didn't actually move until 8th March the following year.
I remember being so frustrated and hounding both our estate agent and the other agents in the chain multiple times per week as everything seemed to be moving SO slowly. Never mind the poor removal company I had booked who had to move my potential move date a total of four times!
And at the time, the 18 weeks it took for us to complete really was classed as slow – out of the ordinary in fact. Fast forward a few years and now many buyers would be thrilled to be moving into their new home within those timescales.
Taking another more recent example from the MoverAlerts team, after agreeing a completely chain free purchase (in comparison back in 2017 I was in a chain of seven!) on 20th November, they actually completed in the last week of March. Similar to my 18 weeks of 4 years ago, but without any other buyers being involved. Interestingly, the survey took place within 3 weeks of the case being opened so in this situation, there were limited delays there, but it took a full 10 weeks for the conveyancing process to be kicked off and also at least 7 weeks before the lender was able to assess the application.
So, traditionally, a move would usually take place around 10-12 weeks after an SSTC listing. This is now 21-23 weeks in most areas of the country. But what impact does this have on removers?
So why would you need MoverAlerts?
That's why MoverAlerts have introduced follow up trigger points at 3, 6 and 10 weeks post SSTC agreement. In the current market conditions, the most effective marketing campaigns will target home movers as soon as a sale has been agreed and then follow up a few weeks later as the vendor gets closer to the actual move taking place.
If you think about it, right now if someone agrees a sale today, it's no longer enough to just send them a mailer this week and hope that turns in to an enquiry. Even though that communication is really important in order to introduce your brand at the point they start thinking about a remover, the likelihood is they won't be in a position to think about booking anything for several weeks.
Thankfully MoverAlerts has a unique targeting opportunity which not only allows you to talk to movers as soon as they have agreed a sale on their property, but also gives you the ability to follow up with these potential leads a set number of weeks after the sale has been agreed if they have not yet completed.
If you'd like to find out more about MoverAlerts leads for removers and storers, get in touch with us today – enquiries@moveralerts.co.uk.