It's officially the summer holidays, which normally means a well deserved break with friends, families and loved ones, or is it?
After the insane year we've had so far in the property market, it's all we could ask for right now.
According to
Andy Haldane, Bank of England Chief Economist
, he mentioned back in June that the UK housing market is on fire and warned there will be significant imbalance between incipient demand and available supply of houses. This coupled will result in pretty punchy rises in house prices.
Well he wasn't wrong!
---
The Property Market - Stamp Duty Holiday Update
At
MoverAlerts
, we pride in being the
most accurate and comprehensive source of homemover data in the UK, and felt it was only right to give you our current outlook of the Stamp Duty Holiday update as we venture into September.
Let's start off by sharing with you some of the rules regarding Stamp Duty as they vary from country to country within the UK in case you weren't aware.
England and Northern Ireland - The stamp duty land tax only came into effect if you paid for a property which cost more than £500k, and this tax relief ended on the 30th June.
It also meant for first-time buyers, you would have been able to save up to £15k, contributing to an incredible 80,000 transactions taking place on just the final week of the stamp duty deadline, causing the busiest housing market we had ever seen.
So where are we now?
Stamp Duty tax now applies to properties costing more than £250k (if you are not a first time buyer) or £300k if you are a first time buyer.
But here is the big difference, while before the Stamp Duty deadline in June you could have saved up to £15k, this figure is now around the £2.5k mark now, and £3k if you are a first time buyer. Just to remind you, the deadline to take advantage of this tax relief ends on the 30th September.
By October 1st, the stamp duty tax will normalise, meaning it will become payable on any property over £125k.
Wales - Firstly, stamp duty is actually referred to as Land Transaction Tax. There is currently no 'stamp duty holiday' as the deadline passed on the 30th June 2021.
Land Transaction Tax now applies on any property over the valuation of £180k.
Scotland - Probably the most thorough of all the countries in the UK, the Land & Buildings Transaction Tax (LBTT) starts at £250k, and this has been in effect since the original deadline set by the Chancellor Rishi Sunak on the 31st March 2021.
Land & Buildings Transaction Tax now starts at £145k, and is set at £175k for first-time buyers.
---
The Demand for Property
Haldane said the dramatic increase in prices was very likely to worsen the gap in wealth between the better off and younger generations.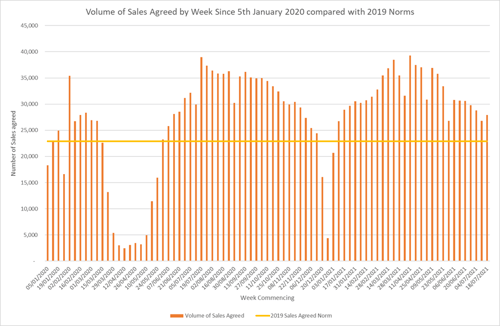 Property demand is shown by the volume of sales agreed, and its an excellent and up-to-the-minute view that if someone is agreeing a sale on a property then that represents the fact that demand in the economy is alive.
There is a demand for people to buy properties.

In the graph above, you can see a thick orange line. This is the state of the market in 2019. We are still above that thick orange line, so right now demand is still going stronger than ever and the property market is still on fire. It's not as bad as it was back in April – July 2020. But the demand is still very high!

To predict what happens next, will solely depend on if 'supply' can eventually meet 'demand'. How many properties can we actually get to market? We are getting to a place where the property market will eventually start to dry up.
The Supply of Properties
Haldane says, "Unless policymakers tackle the supply of homes, inevitably we'll see the sort of relentless rise in house prices relative to incomes that we've seen over the past 30 to 40 years."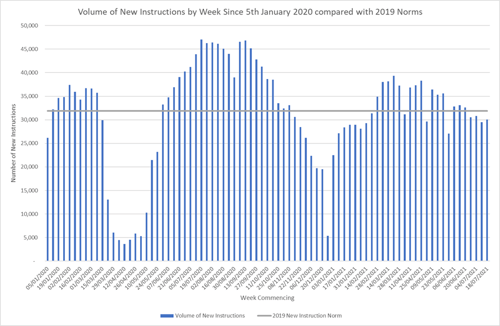 There is more supply being brought to market in relation to the number of sales being agreed on which is positive. So at the minute, we don't have the problem of sales being higher than the demand of properties. But we are nowhere near the so called historical levels of the past.

This was when demand was totaling 75% of supply. What we are seeing at the minute is out of every 100 properties, 95-98 of them are going to sell which is ridiculous.
This is the seller's market and it does mean if you have a house to sell at the moment without the need to buy another one, there is no better time than the present to sell it. It means prices will rise in the short-term.
It's a very challenging time for buyers, and for all of us in the homemover market too. Let's just hope that things get a bit easier in the months to come.
To find out more about MoverAlerts and how we can keep your business busy with our homemover leads, click the button below.